What Your Dog Needs to Stay Healthy


1-800-474-7044 order code # 3858-8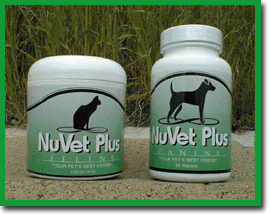 All Natural !!!
All of the ingredients in NuVet Plus are NATURAL Human Grade. We like to inform our friends about the origin and reasons for using these ingredients. Allergies, skin and coat problems, arthritis, tumors, cancer, cataracts, strokes and heart disease are just a few of the 50 major diseases caused by free radicals. Unfortunately, these diseases lead to suffering and premature death in our pets. The veterinarians, physicians, pharmacists and nutritional scientists of Nu Vet Labs have blended a precise combination of human grade, natural vitamins, minerals, herbs, and antioxidants proven to combat the ravages of free radicals. Puppies and kittens to senior dogs and cats should start on the path of disease protection today.

CAT'S CLAW or in Spanish, Uno de Gato is one of the major antioxidants used in NuVet Plus. It is a woody vine which wraps itself around trees in the Amazon rain forest. Native to the jungles of Peru, Cat's Claw thrives in the highlands. Modern knowledge of this herb began in the early 1970's when scientists observed positive results with arthritis, allergies, skin problems, digestive problems and chronic inflammation. These therapeutic successes are due to the stimulation of the natural immune system. Cat's Claw boosts the bodies ability to fight infectious bacteria. In combination with the other powerful antioxidants in NuVet Plus, Cat's Claw certainly makes a strong contribution to the effectiveness of the supplement!


BLUE GREEN ALGAE is the nutrient powerhouse!
It has been scientifically proven to stimulate the immune system, boosting brain power & guarding against many diseases. This miracle super food has a soft cell glucose wall, making it extremely easy for the body to digest; this allows rapid absorption & assimilation of vital nutrients. The blue green algae used by NuVet Labs is from Klamath Lake, in Oregon. This wild form of blue green algae is indigenous to Klamath Lake, whereas many algae's are created artificially in farming ponds. Even sea kelps cannot claim the benefits which this form of blue green algae can. This wild form of blue green algae are completely free of artificial, synthetic influences. Not only does this main ingredient in NuVet Plus strengthen the immune system, but it also promotes intestinal regularity. It purifies the blood and assists in the smooth operation of the brain and nervous system.

PROANTHOCYANIDID is commonly called "pine bark"
Has the most powerful antioxidant that reduces oxidative damage to the cells and vital tissues. It reduces cardiovascular disease, osteoarthritis and helps prevent premature aging.

HOW PROVIDED:
The canine formula is available in chewable wafers that can be very easily broken up into the dog's food or given as a treat. Available in 30, 60 and 90 wafers per bottle. Plus you can sign up for the automatic once a month refills without having to remember to call in for the refills. There are enough other things to do in life than to call every month for refills. It is a great program they have with the automatic once a month shipment.
The feline formula is available in granulated form to be mixed with the food.
"testimonials"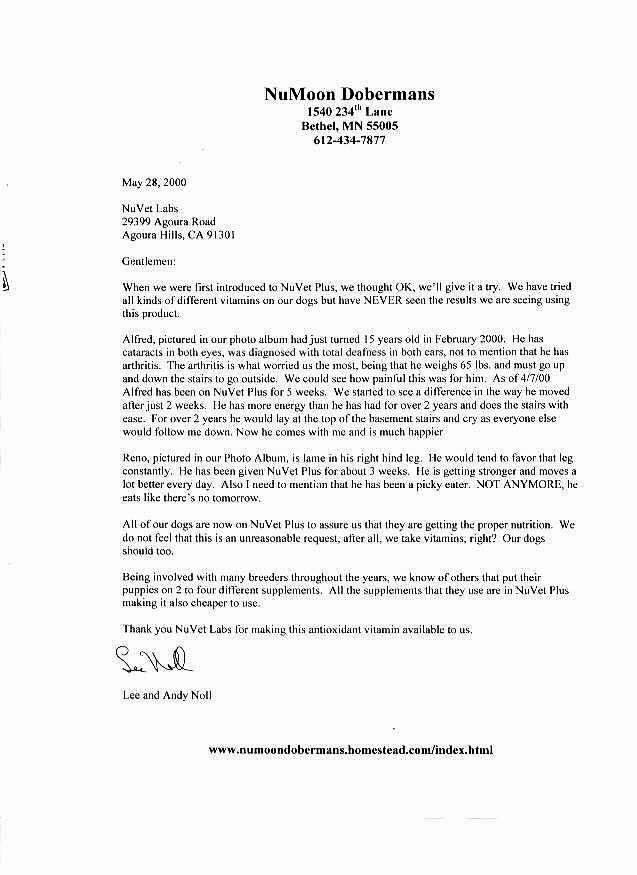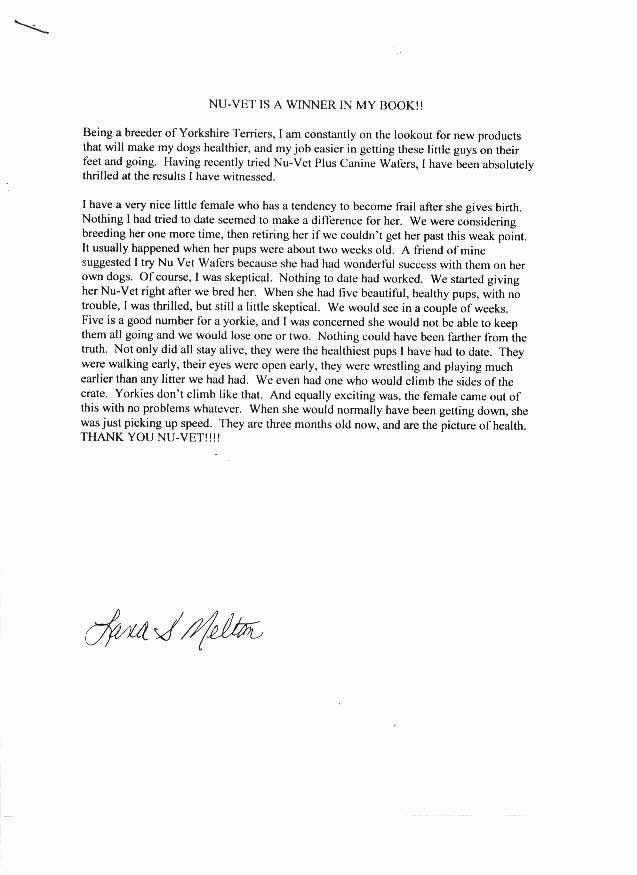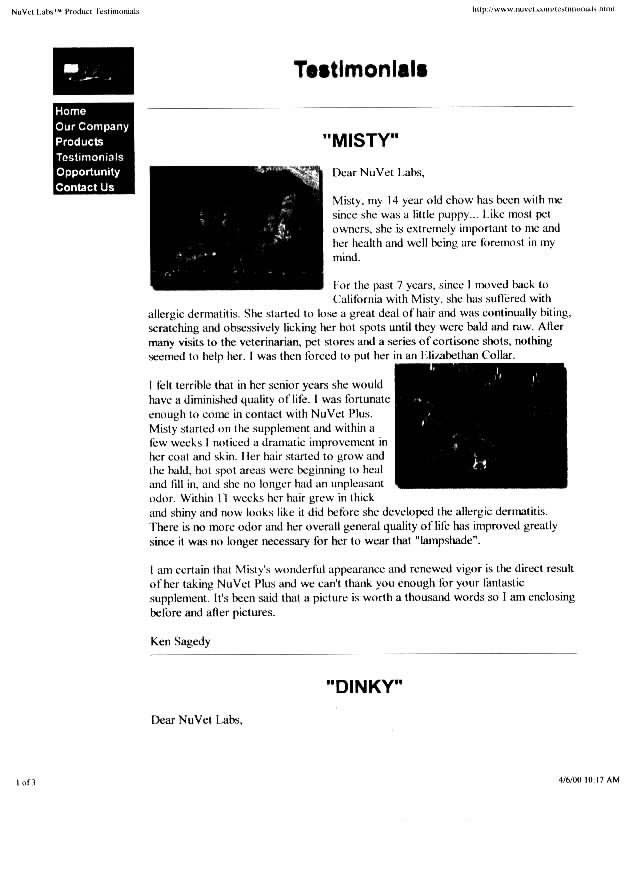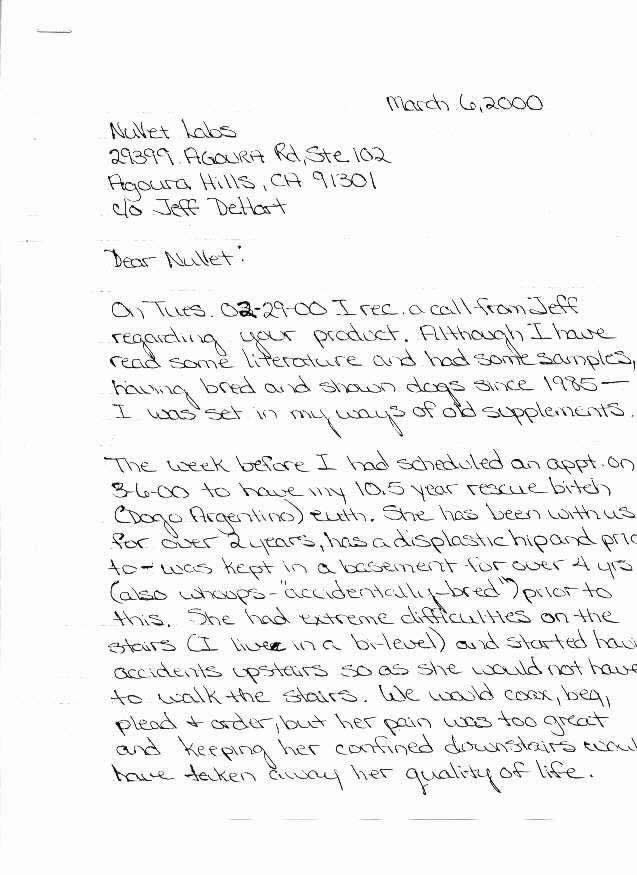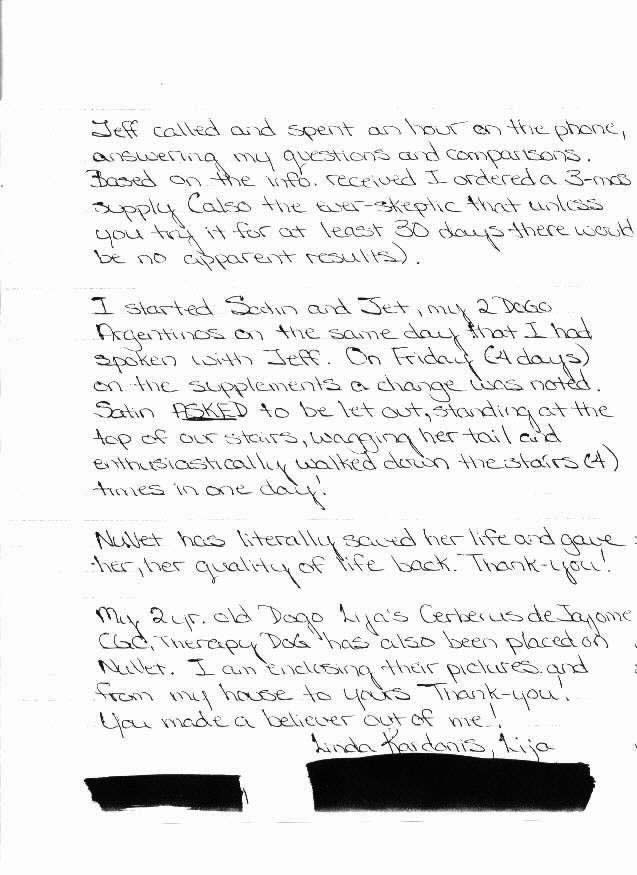 BACK TO ADULT DOGS FOR SALE
BACK TO PUPS FOR SALE
BACK TO STUD SERVICE
BACK TO TRAINING PAGE
BACK TO GOOD INFORMATION PAGE
BACK TO HOME PAGE