ARE YOU WORKING YOUR DOG CORRECTLY ?

IS YOUR TRAINER ADVISING YOU CORRECTLY ?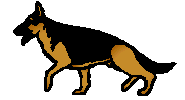 Realizing everyone's dog's problems are not the same, thus, it requires the "right" trainer for you to be working with in order correct those problems. There may be other goals you may want to accomplish, thus, you may need to utilize a different trainer for these goals. There are many good trainers but some may not be the proper one for the problem you are wanting to rectify.

The average dog owner does not possess the "eye" to be able to tell what method the trainer is working your dog, thus, you will not be able to predict the outcome nor know if this is the right trainer for your desires. All your time and money will then be totally wasted and ending in frustration for you about your dog, and the dog not understanding why you are upset because the dog has acted properly for the training he received. All of this happens when the trainer was not approaching the problem in the correct manner.

In order to polish up your competitive edge you may a critique of your handling techniques besides of the dog working in either obedience, agility or protection.

Along with the tape, we request you forward a letter focusing on the problems you are having while training and related situations whereby the dog is repeating the same unwanted occurrence. We need to know when the dog is performing not according to your expectations of what you have trained for. Do not sent just general problems which no training is shown on the tape. We must see how you are attempting to correct this situation and the only way to see that is to view you or someone working the dog on the video. Once that is seen, we can recommend how to alter the training.

Remember that training is not just when you are practicing with the trainer but includes the conditioning you do on a daily basis while the dog is living with you. Training is a conditioned response.

Whatever your reason is for the critique, we offer an unique service reviewing VCR tapes up to half an hour long for each dog, then provide written suggestions for the handler, owner and trainer. For the same dog, the first tape is $150, then $100 for second tape, and $75 for unlimited tapes thereafter. Credit card accepted through PayPal system, click on following link if you are not signed up with their organization, or certified funds. If personal check is sent with tape, then a two week delay will be incurred before review. Average turn around time is two weeks. If you include your e-mail address, we can send the critique via e-mail besides regular U.S. Postal Service.

https://secure.paypal.com/refer/pal=Katzenblut%40aol.com

Please understand that the critique is direct to the point and we will tell you like it is without any babying about what is being done wrong or what methods need to be changed.

Most effective way to send video tapes are through the U.S. Postal Service by Priority Mail costing $3.20 and the post office provides free of charge a special box to put the video tape in. Just take pre-addressed labels to save yourself time.


All information pertaining to your request is kept in the strictest confidence.
Don't forget, we offer private training at your home in Lee, Collier & Charlotte County.
Or you can come to our training grounds in N. Ft. Myers.
BACK TO ADULT DOGS FOR SALE
BACK TO PUPS FOR SALE
BACK TO STUD SERVICE
BACK TO TRAINING PAGE
BACK TO GOOD INFORMATION PAGE
BACK TO HOME PAGE